KnuBoost™- O3FA & Glucosamine
An excellent source of Omega 3 Fatty Acids and Glucosamine. KnuBoost Bars promote flexibility and helps to maintain joint mobility.
Omega 3 Fatty Acids:
Omega 3 fatty acids have been proven to support the health of the skin, coat, joints, kidneys, heart and immune system of dogs and cats. It's even been shown to aid in more serious problems such as cancer.
Glucosamine:
As your dog ages, the natural production of glucosamine in the body slows. As a result, the natural repair process in the body slows, eventually leading to joint pain and stiffness. The ongoing wear and tear on your dog's joints, combined with the slowed repair time of the cartilage, leads to the development of painful arthritis.
Daily Supplemental Feeding Instructions:
15lbs. or under....1 Bar
15-30lbs..............1-2 Bars
30-50lbs..............2-3 Bars
Over 50lbs..........3-6 Bars
**One Bar has an average weight of 10 grams
Doggie rejuvenate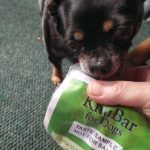 Amazing, it's like both my dogs are Young and full of energy again. I caught them trying to get the container open for more. They truly love the product more than any treat we've been getting them for the past ten years. I will continue to get knuboost for my Chihuahuas.
Jeff Jenkins
Allergies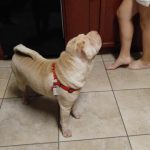 After trying for 3 yrs to stop the Shar-Pei itch due to allergies, we tried your product. Since the first container, she has minimal itching and hair is coming back to her feet and hocks. I will continue to treat her with these. She also seems to have more energy. Thanks so much.
Jerrie Romano