What makes a KnuBoost Bar?
We strive to provide the greatest clarity to our customers so they know exactly what they are giving to their pets. KnuGroup products were formulated using over 30 years of research from V.M.D. Richard Baird. Dr. Baird still works hands-on with his patients at his veterinarian practice.
Guaranteed Analysis
Crude Protein………………………….18.0% minimum
Crude Fat………………………………….8.0% minimum
Crude Fiber……………………………….3.0% minimum
Moisture………………………………….28.0% minimum
Total Omega 3 Fatty Acidsomega 3 Fatty Acids can immensely improve skin, coat, joint, and heart health.………..1.5% minimum
GlucosamineGlucosamine is what helps your dogs joints and bones significantly. This is very helpful with arthritis in dogs……………………………..2.0% minimum
*Not recognized as an essential nutrient by the AAFCO Dog Food Nutrient Profiles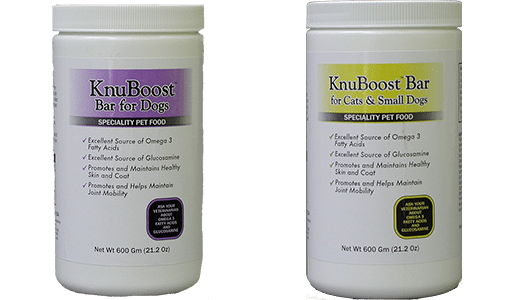 Ingredient Listing:
Chicken

Chicken is a lean meat and provides dogs protein which is a main energy source for dogs. Chicken builds lean muscle and supports bone health in your canine.
,
Ground Wheat

A great source of energy and protein for dogs
,
Soy Flour

Provides dog with protein and many vitamins and minerals
,
Corn Syrup

Sweetens your dogs treats!
,
Wheat Flour

Contains protein and fibers that are good for your dogs health and diet
,
Ground Flaxseed

Packed with protein and fiber, is a good source to help your dogs digestive health and immune system. Can also help cardiovascular health.
,
Fish Oil (preserved with ethoxyquin)

Add a Tooltip Text
,
Glycerin

Preservative and Sweetner
,
Fish Meal

Great source for protein, b-vitamins, calcium, amino acids and many more.
,
Propylene Glycol

Preservative
,
Glucosamine Hydrochloride

Relieves joint and hip pain in dogs
,
Brewers Dried Yeast

High in b-vitamins, improves immune system, controls fleas, and improves overall health of canine
,
Dicalcium Phosphate

Provides canine with calcium and phosphate, which can help build strong bones, teeth, and a healthy heart.
,
Potassium Chloride

Improves metabolism and body ability
,
Salt

A necessity for good health
,
Ground Limestone

Outstanding source of calcium
,
Phosphoric Acid

Adds flavor to your pet treat!
, Potassium Sorbate (a preservative), Caramel Color,
Taurine

Taurine is essential for great cardiovascular health in dogs
, Choline Chloride,
Zinc Methionine Complex

Helps prevent zinc deficiency common in many dogs. This helps prevent many illnesses that may happen to your pet if they don't get enough zinc
,
Zinc Oxide

Helps heal wounds, support growth, and promotes healthy skin and coat
,
Vitamin A

Essential for proper metabolism
,
D3

Increases calcium, muscle strength, promotes healthy blood pressure and heart, and many more
,
E

THigh in protein, good for skin and coat health
,
B2

Add a Tooltip Text
,
Biotin

Good for the nervous system, skin, and coat. Makes sure your dog has the required amounts of B-7
, and
B12 Supplements

Essential for dog and can prevent many diseases
,
Ferrous Sulfate

Prevents poor growth in puppies and anemia in dogs
,
Manganous Oxide

Enhances immune system and develops strong bone health
,
Copper Sulfate

Provides dog with the essential copper supplement they need
,
Cobalt Carbonate

Provides cobalt and is needed for B12 synthesis
,
Ethylenediamine Dihydriodide

An Iodine supplement
,
d-Calcium Pantothenate

B vitamin involved in most metabolic processes in body.
,
Niacin

Essential B vitamin that helps promote skin and coat health
,
Pyridoxine Hydrochloride

A form of vitamin B6 which is essential in dogs. Helps support metabolism and protein levels.
,
Thiamin Mononitrate

Helps metabolize energy
,
Menadione Bisulfite Complex

Supplement of Vitamin K
,
Folic Acid

Strengthen cell membranes and is needed for metabolism
,
Sodium Selenite

Provides selenium which is essential to good health in dogs
.